A month and a half ago, Alex and I made our first ever IKEA trip to buy new furniture for our office/ hobby room. I've been eyeing the IKEA Alex drawers for about three years now, and pretty much every beauty guru I watch on YouTube has them. Of course, while we were there I bought myself a white 9-drawer while I was there along with the white Micke desk with side integration.
When I was figuring out how to organize my desk and drawers, I looked on Google and Pinterest for inspiration. So, it only made sense to give back and do a post about my IKEA Alex drawer organization.
Before we get started, here is my desk and drawer setup. I have the Micke desk with side integration, Alex 9-drawers, and the Henriksdal chair/ chair cover.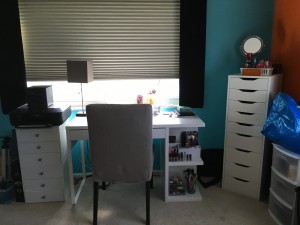 IKEA Micke Desk
The main drawer is a little bit of everything. On the left side, I keep extra office supplies and important mail. On the right side, there are my beauty tools and makeup extras.
One of the main reasons I chose this Micke desk was because I loved the side integration. This desk serves as a vanity and as my office workspace. Because I work from home, this desk is my office for 8-9 hours a day, and it's just not practical to keep the makeup on the desk all day. Instead, I store my go-to everyday makeup in the front cubbies.
In the top cubby in the back, I keep important work stuff such as notebooks, documents, iPad, etc.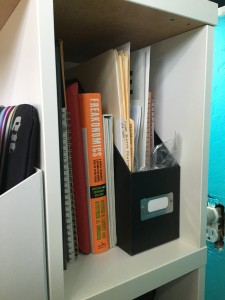 The bottom cubby is mainly for my Bath and Body Works candles, but I also store some "extras" in there that don't fit anywhere else like my workout DVDs, cosmetic bags, and Beats headphones.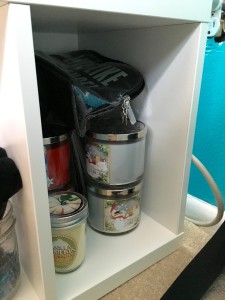 IKEA Alex Drawers
On top of the drawers, I have my mirror (also purchased at IKEA), perfume, and Jawbone mini jambox. The red box is what my Taylor Swift perfume gift set came in, and since I don't really have anywhere else to put it, I figured it was pretty enough to sit on top of the drawers.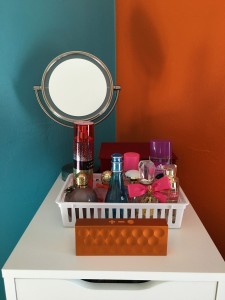 Drawer #1: Eyeshadow singles and eyeshadow primer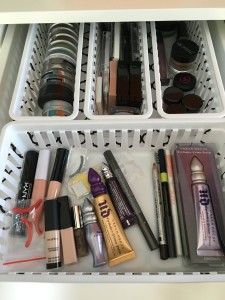 Drawer #2: Mascara and eyeliner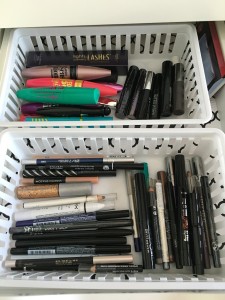 Drawer #3: Blush, bronzer, highlighters, face primers, and BB cream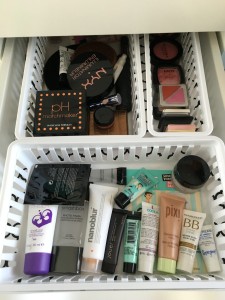 Drawer #4: Foundation, powder, and concealer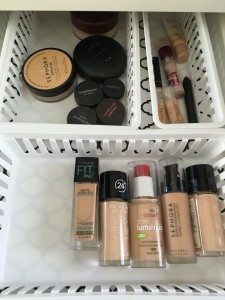 Drawer #5: Lip products (lipstick, lip gloss, lip stain, etc.)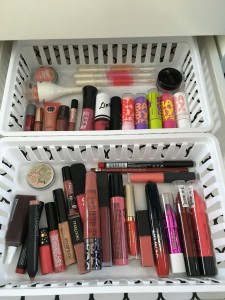 Drawer #6: Samples (from Ipsy, Birchbox, or beauty store purchases) – face and body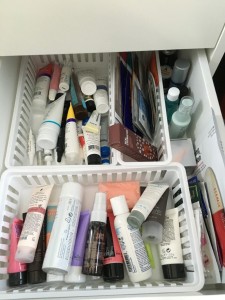 Drawer #7: Samples (from Ipsy, Birchbox, or beauty store purchases) – hair and perfume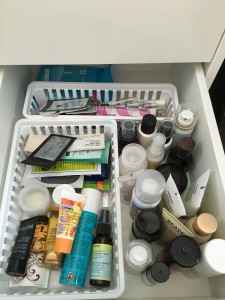 Drawer #8: Eyeshadow palettes, other makeup samples, chapstick, and miscellaneous products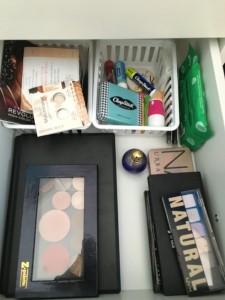 Drawer #9: Nail polish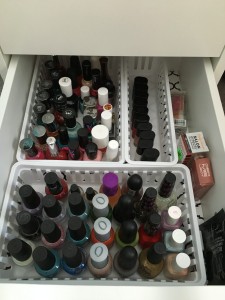 (Visited 3 times, 1 visits today)