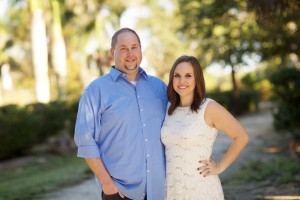 Change. Perhaps one of my least favorite words. For me, change brings nerves, anxiety and uncertainty. Anytime someone tells me, "things are going to change for you" or "things change a lot around here," I get a pit in my stomach.
I know change is inevitable. No matter how hard I try, people, circumstances and life changes. Any every once in awhile, I open it with open arms. But that doesn't change the fact that change can be downright scary.
We're barely two months into 2016, and I already know that the theme of this year will be change. Between my upcoming wedding, a possible cross country move and a complete blog re-brand (more on that later), I can't help but be a little nervous about it all.
But that's life.
The Bockisch/Fernandez Wedding
April 16, 2016, is the day I marry my best friend. With less than two months left until the wedding, it's starting to hit me that this is really happening.
I was never the girl who dreamed of her wedding growing up, so the idea of wearing a white dress, walking down the aisle and having a first dance is a little overwhelming to me. As a reluctant as I was to have a "real wedding," I've learned to embrace (and even enjoy) the wedding planning process.
Although we've been together for four years, I know that marriage is a whole new game. And while there are certainly some challenges associated with marriage, I can't wait to spend forever with the man I love.
A Possible Move
As if a marriage wasn't enough, we're likely adding a cross country move into the mix. Alex accepted a job at a company called Sweetwater in Fort Wayne, Indiana. As long as everything goes well during the next 90 days, we'll be getting an apartment and moving all of our stuff at the end of May.
Working remote has its benefits, one of which is being able to move to a new state without having to change jobs. I'm incredibly grateful to have been given such an incredible opportunity.
A Full Blog Re-Design
When I started My Life in Wonderland back in July 2009, it was a way for me to express my feelings and write about my life as a college student. It was more of an online journal than a blog, and I never expected anyone to see my posts.
The name of my blog stemmed from the idea that I always felt I was living in an unknown place. When I was at my lowest points, I felt like I fell down a rabbit hole – just like Alice. Nothing made sense to me, and I had a really hard time coming to terms with the world around me. I just wanted to go "home." In other words, I wanted a "normal" life again. Whatever the hell that meant.
Fast forward seven years. Needless to say, so much has changed. I'm in a different place now, and I no longer feel like I'm living in Wonderland. Although I sometimes still struggle with my demons and dark past, they don't consume me.
I feel present in the moment, and I absolutely love the life I live. The good, the bad and the ugly are all welcome in my life, and I'm more equipped to face challenges head on.
With that, I'm both happy and sad to say that the name for this blog, My Life in Wonderland, will be changing in the next couple of months. I'm not quite ready to announce the new name, but know that it's coming – along with a full website re-design.
As nervous as I am for all of the changes, I find comfort in knowing this: "Your life does not get better by chance. It gets better by change."
(Visited 7 times, 1 visits today)